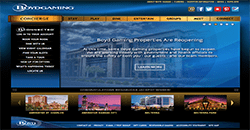 The gaming and hospitality company Boyd Gaming which is based and headquartered in Las Vegas has announced plans to lay off approximately 25% of their workforce, due to the ongoing Coronavirus / Covid-19 pandemic. With a spokesperson for Boyd Gaming in reference to furloughed staff who have not yet returned to work, stating: "Furloughed employees who have not already been called back to work are being permanently laid off."
Boyd Gaming who operate dozens of properties across the country, closed nearly 30 casinos in March earlier this year as a result of lockdown measures employed nationwide. Since 4th June last month, casinos in the state of Nevada have been allowed to reopen.
Boyd Gaming have so far reopened 9 of their 12 Nevada properties, although The Eastside Cannery and Main Street Station in Las Vegas and the Eldorado in Henderson currently remain closed.
At the start of May Boyd Gaming sent out Worker Adjustment and Retraining Notification letters to employees, with Chief Executive Officer Keith Smith indicating that there may be possible job redundancies in July, something that is now unfortunately occurring.
Earlier this week Boyd Gaming issued a statement which said: "Layoffs were at the lower end of the range outlined in the WARN Act letters. we are still facing significant restrictions on our business, and visitation levels remain well below pre-pandemic levels."
The company have also confirmed that they will provide financial assistance to employees who find themselves out of work.