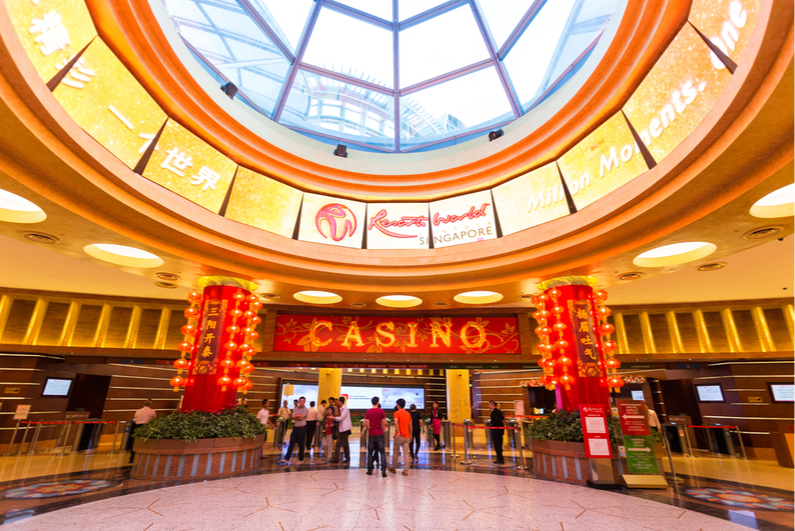 Back to business
The two integrated casino resorts in Singapore are set to reopen their gaming operations on July 1 for the first time in over three months. Resorts World Sentosa and Marina Bay Sands (MBS) will still have many restrictions in place, however, upon welcoming back guests.
approved proposals from the two properties on June 28 to restart their gaming offerings
The two facilities have been accepting visitors at reduced capacities in recent weeks, but the gaming facilities have not been open. The Ministry of Trade and Industry and the Singapore Tourism Board approved proposals from the two properties on June 28 to restart their gaming offerings as well as other entertainment options.
Entry requirements
As part of the agreement, the casinos will have to operate at a maximum of 25% capacity for the foreseeable future and follow extensive health and safety protocols. There are also restrictions on which specific customers will gain entry to the casino floors: to visit Resorts World and MBS, citizens and residents of Singapore must already be annual levy holders.
The levy is a cover charge for gamblers to be permitted to enter the country's casinos. It has generated about $1bn for the government over the past decade. The yearly fee increased from S$2,000 (US$1,433) to S$3,000 (US$2,150) last year. The daily fee for one-off gamblers is S$150 (US$107).
Gamblers must be members of the Sands Rewards Club gold tier or higher to be admitted to MBS. Only Genting Reward members will gain entry to the gaming floor at Resorts World. There will be limits on table game numbers and all seats for gaming machines will be at least one meter apart. All staff dealing with the public will wear face shields and masks and will regularly sanitize their hands.
Freefalling revenue
The casinos in Singapore were initially supposed to reopen on June 1, but the Singapore Casino Regulatory Authority mandated that the casinos stay closed after an increase in COVID-19 cases.
The two operations are bracing for a significant decline in revenue for 2020 after bringing in a combined $4bn in gross gaming revenue in 2019. Singapore is the second-biggest market for Las Vegas Sands in terms of turnover, after Macau.
Casino operators with sizeable exposure to the Asia-Pacific market are also staring at a large negative financial impact in 2020. Moody's Investor Service estimates that earnings before interest, tax, depreciation and amortization (EBITDA) for casinos in the region will fall by about 70% as a result of the extensive closures and restrictions on travel.
Analysts believe it will take some time for turnover to return to normal levels because of continuing social distancing measures and low levels of international travel. Bernstein analysts project that gross gaming revenue in Singapore might not return to normal until 2023.