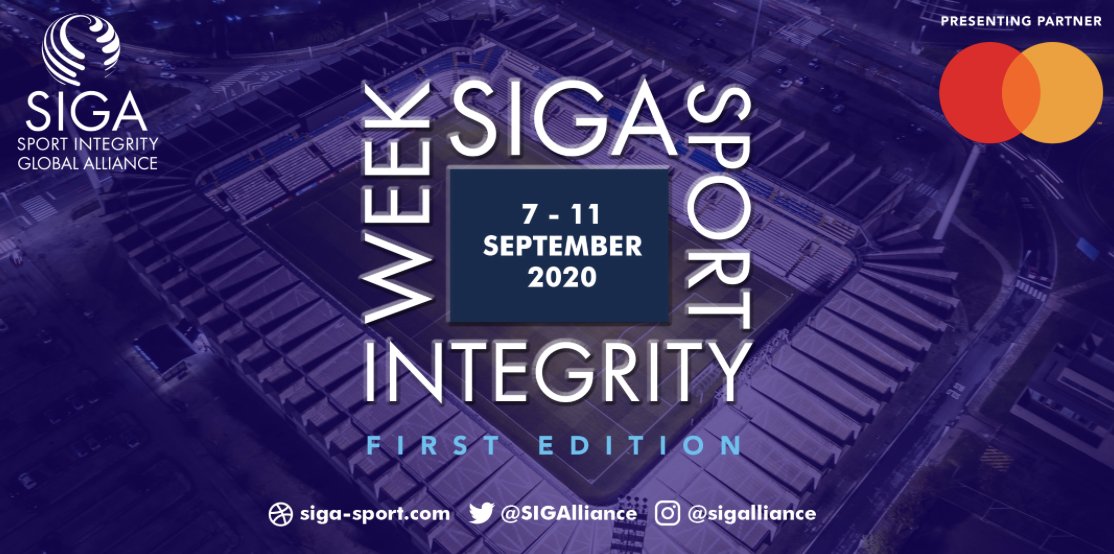 August 27 – The SIGA organised Sport Integrity Week taking place September 7-11 has now released a list of 38 speakers as it nails down its final agenda.
The five-days of for the webinars are free of charge, but pre-registration is necessary. The registration link is available here.
Sport Integrity Week is structured around five core themes and will offer sessions on: Good Governance, Anti-Corruption and International Cooperation in Sport; Financial Integrity, Transparency and Sustainability in Sport; Sports Betting Integrity; Sports Business, Media and Technology; and Youth Development and Child Protect in Sport.
Emanuel Macedo de Medeiros, SIGA CEO and Chairman and CEO of SIGA AMERICA, said: "Sport Integrity Week brings together a diversity of the most influential sports organisations and global leaders in government, business and civil society. These industry leaders and pioneering organisations that are joining us on this momentous occasion clearly demonstrates that the time to deliver a decisive step forward for Sport Integrity is during Sport Integrity Week! …I encourage all individuals, organisations and industry leaders to step forward and be part of this global, independent movement!"
Confirmed speakers to date include:
Affy Sheikh, Head of Integrity, Starlizard Integrity Services
Akaash Maharaj, CEO Mosaic Institute. Ambassador-at-large, GOPAC
Alfredo Durante Mangoni, Coordinator for Anticorruption, Co-Chair G20 Anti-Corruption Working Group
Andrea Traverso, Managing Director, Financial Sustainability and Research, UEFA
Anna Blanchard,Senior Manager, Partner Marketing, MLS, SIGA Global Mentor
Ben Jacobs, Sports Broadcaster
Brett Abarbanel, Director of Research, UNLV International Gaming Institute
Brian Lancey, Vice President of Global Entertainment Sponsorships and Consumer Marketing, Mastercard
Brian Lewis, President TTOC, President, CANOC, Chairman, SIGA Task Force on Race, Gender, Diversity & Inclusion
Dan Mannix, CEO, CSM North America,
Edwin Moses, Chairman Emeritus, USADA, Olympic Legend
Emilio Garcia Silvero, Chief Legal Officer, FIFA
Franco Frattini, Chairman, SIGA
Fred Lord, Director, Anti-Corruption and Transparency Operations, ICSS
Gary Kalman, Director of the US Office at Transparency International
Giovanni Di Cola, Special Advisor, Office of the Deputy Director General, ILO
Graziella Thake, CEO, Optimisation Hub
Hani Ballan, CEO, QSL
Ian Smith, Commissioner, ESIC
Iain Lindsay, Director of Research, Knowledge, and Innovation, SIGA
Jacques de Werra, Professor of Contract Law and Intellectual Property Law, University of Geneva
Joao Paulo Almeida, Director General, Portuguese NOC
Jonny Gray,CEO, Tennis Integrity Unit
Julian Zylberstein, Chief of Governance and Stakeholder Affairs, UEFA
Ju'Riese Colon, CEO, US Center for Safesport
Karin Korb, Wheelchair Tennis, Paralympian Champion& SIGA Champion
Katherine Anderson, Youth Protection Officer, MLB, SIGA Global Mentor
Katie Simmonds, General Counsel & Senior Director, Global Partnerships, SIGA
Kelsey Erickson, PH.D. Executive Director of Athlete Health & Wellness, USA Cycling
Kristina Harder, Executive Director, US President's Council on Sports, Fitness and Nutrition
Lorenzo Salazar, Vice Chair, Working Group on Bribery, OECD
Mark Lichtenhein, Chairman, Sports Rights Owners Coalition
Michael Robichaud, Senior Vice President, Global Sponsorships, Mastercard
Paul Nicholson, Editor in Chief, Inside World Football
Sandra Douglass Morgan, Chairwoman, Nevada Gaming Control Board
Stacey Copeland, Commonwealth Boxing Champion, SIGA Champion
Stephen Martino, Senior VP & Chief Compliance Officer, MGM
Vlad Marinescu, President, International Esports Federation
For more details on the programme of activities, registration and to download the app click here. Participation for webinars is complimentary. Place are limited. To reserve your place click here.
Contact the writer of this story at moc.l1598534977labto1598534977ofdlr1598534977owedi1598534977[email protected]1598534977osloh1598534977cin.l1598534977uap1598534977