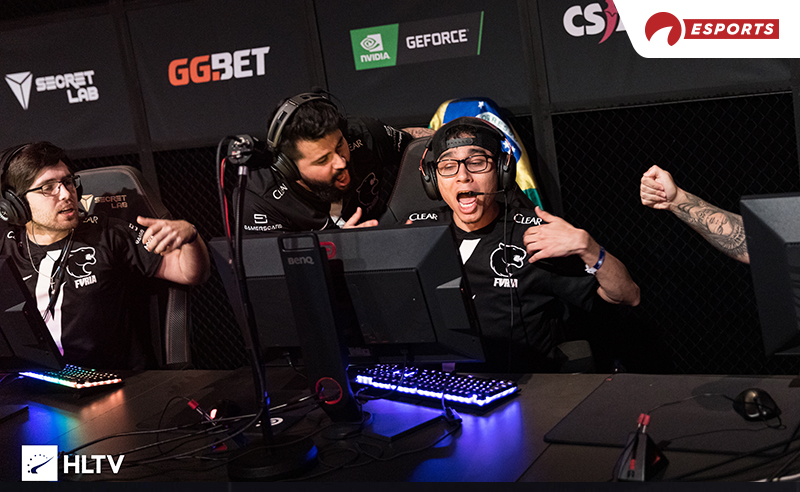 One of the hottest Counter-Strike: Global Offensive tournaments rages on, as the playoffs of CS Summit 6 close out June's busy CS:GO calendar and take us into the first week of July.
As teams are still stuck playing online, the event has been split in two – one American and one European tournament. Both events feature some of the best teams of their respective regions, giving bettors a chance to sink their claws into some of the highest-level Counter-Strike of late.
If you haven't bet on Counter-Strike before, here's how to bet on CS:GO, and how to follow the action.
Let's take a look at some of the most interesting matches coming up in CS Summit this week:
June 30
Ence Esports vs FaZe Clan
The two teams surprised as they both fell in the group stage, but still have a lot to fight for in the 9th-12th place matches, with all-important regional major points on the line. FaZe come in as the clear favorites as the current No. 4 team in the world, although recent results between the two show it may be closer than it seems.
Ence took on FaZe just two weeks ago in an incredibly close affair, bringing the series to all three maps and narrowly missing out on a 2-0 win as they lost the first map by just two rounds before closing out the second in overtime and eventually crumbling in the third. While it's likely FaZe will win the series, there's real potential for an upset or at least another three-map brawl.
Ence Esports vs FaZe Clan Betting Odds

| Team | Odds | Spread | Total |
| --- | --- | --- | --- |
| Ence Esports | +175 | +1.5 (-167) | -O 2.5 (+100) |
| FaZe Clan | -250 | -1.5 (+115) | -U 2.5 (-154) |
Odds as of June 30 at Betway
July 1
Fnatic vs BIG
BIG come into this match in blazing hot form as they've demolished just about every opponent in the last two weeks, making a meteoric rise to No. 7 in the world.
The German team's star players Florian "syrsoN" Rische and Ismailcan "XANTARES" Dörtkardeş look absolutely unstoppable at the moment and it's hard to see Fnatic being able to stop them, especially considering their current shaky form.
Fnatic vs BIG Betting Odds

| Team | Odds | Spread | Total |
| --- | --- | --- | --- |
| Fnatic | +120 | +1.5 (-250) | -O 2.5 (-111) |
| BIG | -167 | -1.5 (+160) | -U 2.5 (-143) |
Odds as of June 30 at Betway
July 2
Furia vs Cloud9
This time we take a look at the American region as sixth-ranked Furia take on 20th-ranked Cloud9. The match may seem one-sided, as reflected by the -285 odds, but there is more here than meets the eye.
Both teams are incredibly strong sides and will be fighting for all-important major ranking points. They've also never actually played against each other, even while competing in the same events for months. This is likely to be an all-out brawl that has the potential to go all the way to three maps.
Furia vs Cloud9 Betting Odds

| Team | Odds | Spread | Total |
| --- | --- | --- | --- |
| Cloud9 | +220 | +1.5 (-154) | -O 2.5 (+105) |
| Furia | -285 | -1.5 (+100) | -U 2.5 (-167) |
Odds as of June 30 at Betway
---
How To Bet CS:GO Moneyline
Moneyline bets are one of the most straightforward ways of betting and if you've done it in any other sport, it's no different in Counter-Strike. Simply pick which team you think will win, place your bet, and wait on the result.
These bets always feature a favorite and an underdog, represented by a (-) minus or (+) plus in American odds. When betting on the favorite, the (-) minus signifies what you would need to bet to win $100, while on the other hand, the (+) plus shows what you'd win if you bet $100.
It's important to note that not all bookmakers currently offer CS:GO options, and while it is becoming more popular, many sportsbooks that have integrated esports may have a limited selection. However, we've made finding a good place to bet very easy, with a comprehensive list of the best online esports betting sites.
What Are CS:GO Prop Bets?
Prop bets, aka proposition bets, are as common in Counter-Strike: Global Offensive as they are in any sport. Rather than betting on the outcome, you can bet on specific events in the game.
When it comes to CS:GO, this includes things like the number of rounds in a map, which team will win a specific round, first eliminations, defuses, explosions, the final round score – really just about anything that will happen in the game.