Heritage Auctions, a Texas-based auction house for comics, trading cards, and memorabilia among various other things, has recently put an unopened box of Magic: The Gathering's infamous Collectors' Edition onto the auction block. This item is presently (at the time of this article's conception) going for $6,000 USD and the auction ends on July 9th.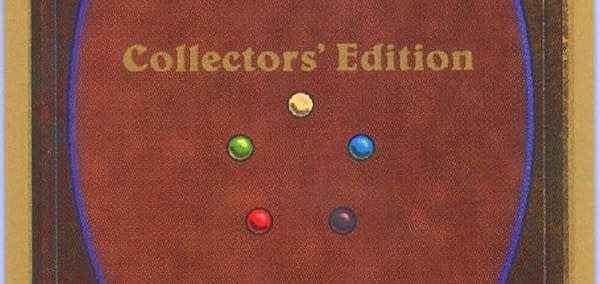 This collection of 363 cards includes al 302 cards from the Limited Edition Beta base set of Magic: The Gathering, as well as 61 basic lands in addition. What sets this collectible apart from other Magic cards or memorabilia is that the backs of each card are framed with a gold-colored border and emblazoned with a prominent show of "Collectors' Edition" printed above the pentagon of the game's five colors. Additionally, the cards are printed with square corners as an added measure to make sure the cards are distinct enough from cards usable in the game proper.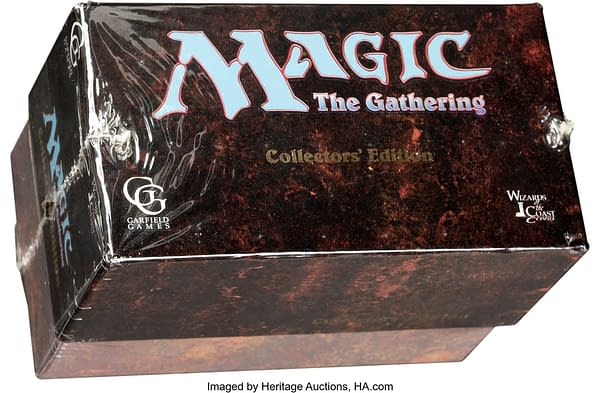 The mere existence of a sealed box of Collectors' Edition feels like a pure anomaly. Only 9,000 boxes were ever printed and with the rise of costs for many of the usable versions of cards in this box, the Collectors' Edition is often opened and the cards used as proxies. Furthermore, the printing of this release (alongside the International Collectors' Edition and Chronicles) paved the way for Wizards of the Coast to instill the infamous Reserved List, barring reprints of many of the cards in those releases from being enacted, and lining the coffers of many collectors of the game's now-most valuable cards.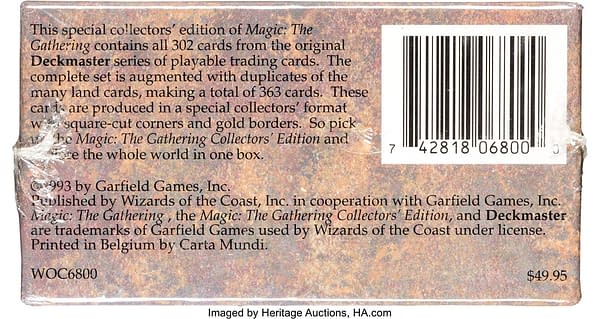 If you are interested in this auction, you can find it by clicking here. It ends on July 9th, so act fast!
Enjoyed this article? Share it!