July 08, 2020
Giovanni Angioni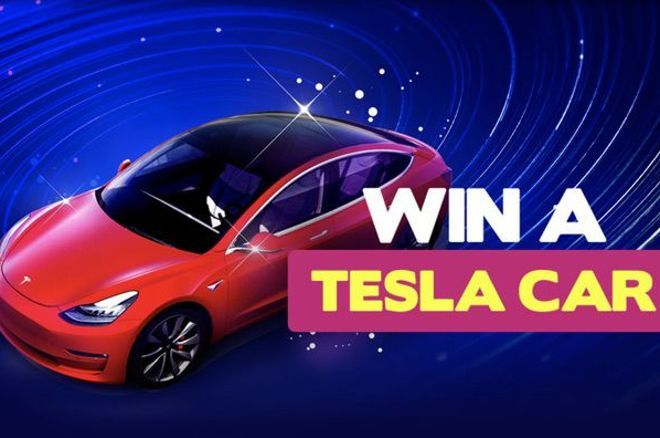 How would you like to drive one of the hottest cars in 2020 and help the world's transition to sustainable energy at the same time?
Discover this new exciting promotion running at BitStarz and get ready to play all your favorite games to get a shot at real money prizes…and a Tesla Model 3!
With a bit of luck, the dream car coming presented by Elon Musk in 2019 could be yours with only a few spins and a €100 investment.
And if you don't remember how great this car is, here's a video to refresh your memory.
[embedded content]
How to Particpate
BitStarz is all about keeping things simple, and that's why the
stunning Tesla Model 3 is going away in one of the easiest giveaways of the summer.
To get your shot at this dream car, you need to:
Register a free account via this link
Activate your e-mail address
Play €100 on a real money game
Your €100 bet unlocks your first ticket to the Tesla raffle. That's all you need to get one chance to have this €45,000-worth beauty delivered to your door.
Want more chances? Get more tickets! The more tickets you collect, the greater the chance you have of finding the winning one.
Accumulating additional tickets is even easier. For every €100 you wager after your first ticket is in the safe, you'll receive one extra raffle ticket.
And, listen to this: there is no cap on how many tickets you can collect!
This Promotion Expires Soon
This promotion ends on August 11, 2020 at 12:00 CEST.
You have until August 11 to register on BitStarz (you can do it here), place your €100 bet, and collect your first ticket.
After that, a winner will be chosen. And if the lucky one won't be too thrilled by the idea of driving the coolest electric car out there – the prize can be exchanged for €45,000 in cash!
This is the second time BitStarz puts a Tesla Model 3 up for grabs. If you missed the first round, make sure you don't do the same mistake.
Click on the button below to enter the raffle on the BitStarz website and find even more info about this crazy summer promotion!
ENTER THE RAFFLE!